Anyone who loves to explore new places knows that India's beauty lies in its diversity and the Chanshal Pass is one of them. Our country is an exciting melting pot of different and enticing landscapes, languages, cultures, and food. No two states are the same which makes it challenging to plan a trip. The beauty that lies in nature's creations is undeniably incredible. Some of them are awe-inspiring that people believe God to be an artist whose canvas is planet earth. India's best natural places to visit would be incomplete without the mention of Chanshal Pass or Chanshal Valley as nature is awe-inspiring in this valley. For anyone who loves to travel and wants to have a glimpse of paradise, visit Chanshal Pass in the Shimla district of the Indian state of Himachal Pradesh. The Chanshal Pass is in that sense nothing less than a Wonder.
The Chanshal Pass, or Chanshal valley, is the highest peak in the Shimla district of Himachal Pradesh with an elevation of 4,520 metres (14,830 ft). It connects Rohru(Chirgaon) to the villages of Dodra-Kwar. The view of Chanshal Valley from the top is breathtaking. The majestic snow-covered mountain range of Kedarkhanta Peak seems from here. This peaceful valley has become extremely famous for its scenic views.
The Chanshal Pass is certainly one of the best offbeat treks near Shimla. It takes you to the high-altitude Chanshal Valley. The trek takes you through a stunning pine forest. In winter months are covered in snow ultimately taking you on a steep track of the wonderful Chanshal Pass. It gives you mesmerising views of the surrounding mountain ranges and valleys. Being an ideal trek for both beginners and experienced trekkers. The Chanshal trek can be done in the winter months when the landscape is covered in snow. It gives you completely different pictures thus making it a perfect winter trek in Himachal Pradesh.
Why To Visit Chanshal Pass?
•Chanshal Pass is the highest peak in Shimla district and from the top, it offers a mesmerising view of the Valley around.
•Chanshal Pass became a popular trekking destination and Larot its base camp. If you want a road trip with your friends without digging a hole in your pocket then the Chanshal Pass is one the most beautiful places. It is quite popular among trekkers and riders for its peaceful environment and scenic views.
•It is a budget weekend for travellers looking for peace and serenity in the mountains. If you are a traveller on a budget, relaxing while watching a peaceful sunrise at the top of the mountain peaks. It will cost less than visiting fancy restaurants or malls.
•Chanshal Pass is awe-inspiring that people believe God to be an artist, whose canvas is planet Earth.
•The drive from Delhi to Chanshal Pass (especially when you come to Pabbar valley)is quite beautiful too. And a trip highly recommended to those having a keen interest in off-reading and photography.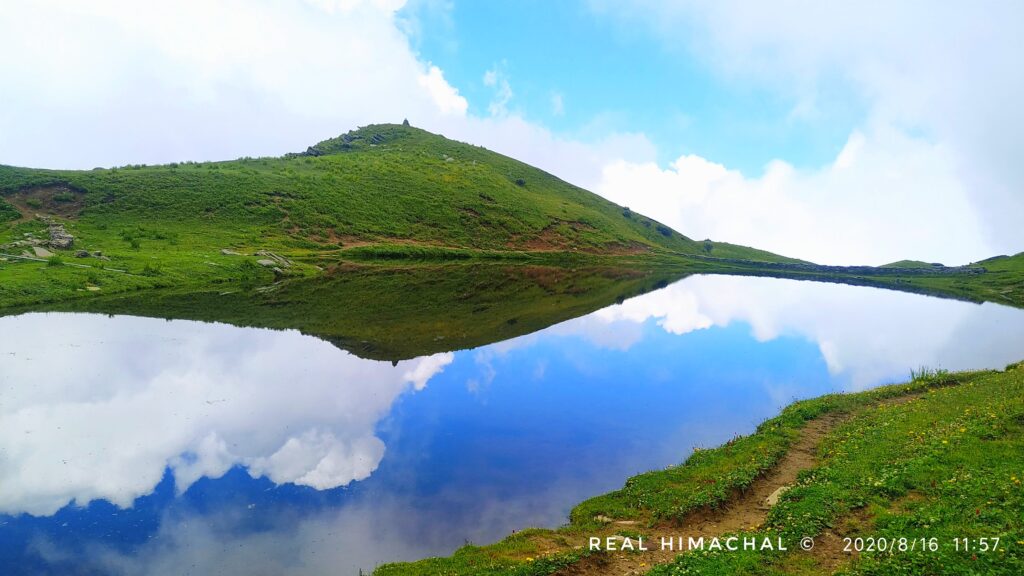 Best Time To Visit Chanshal Pass
The best time to plan a trip to Chanshal Pass will be late June, July, September, or early October. Avoid travelling in the season or during monsoon. It might be a dangerous and horrible time during the monsoon. This area is because the rainwater gives rise to various streams flowing across the path uphill, which makes it difficult to drive the vehicle of your choice over the mud and slush.
How To Reach Chanshal Pass?
Via Air
The Shimla airport is the only airport in Shimla city. The airport is known by the name of Jabbarhatti in the Shimla District in the state of Himachal Pradesh. While the airport is not working all the year-round, it's better to check first. As it is a small airport, places like Delhi and  Chandigarh are only connected via a flight. The second best and the nearest airport is Chandigarh airport which is only around 100 kilometres from Shimla. Upon landing at the airport, there are many buses and taxis available from Chandigarh for Shimla. And from Shimla to Chanshal Pass you can proceed to rent a private vehicle or book a cab to head to Chanshal. 
Via Road
There are two roots from Shimla to Chanshal Pass:
•Shimla to Theog to Kothkhai to Kharapathar to Hatkoti to Rohru to Larot to Chanshal(160 km).
•Shimla to Theog to Narkanda to Tikkar to Rohru to Larot to Chanshal.(175 km).
The condition of the road on the first root is not suitable for bike rides because of the bumpy roads it entails. Satin Roadies is well constructed as compared to the first one but is a bit lengthy.
There are also many ways to reach Chanshal but the distance will not be that great that doesn't involve passing through Shimla first.
•Delhi to Sonipat to Panipat to Kurukshetra to YamunaNagar to Paonta Sahib to Chakrato to Rohru to Chanshal.
•Delhi to Muzaffarnagar to Dehradun via Vikasnagar to Chakrata by Rohru to Chanshal Pass.
Distances From Chanshal Pass
Mention below the distances between Chanshal and some of the known nearby towns that you will be crossing during your journey.
Delhi to Chanshal valley Distance:
The distance of Chanshal Pass from Delhi is 500 kilometres (approx).
Rohru to Chanshal valley Distance:
The total distance between Rohru and Chanshal valley is 48 kilometres via Chirgaon and Larot.
Shimla to Chanshal valley :
Shimla is at a distance of 160 kilometres from Chanshal valley via Kharapatthar, Hatkoti, Rohru, and 175 kilometres via Narkanda, Tikka, and Rohru.
Chanshal valley to Dodra Distance:
The small village of Dodra is almost 20 kilometres from the Chanshal top.
Chanshal to Kwar Distance:
Kwar is about 41 kilometres from Chanshal.
Shimla to Chanshal valley:
150 kilometres(approx).
Narkanda to Chanshal valley:
110 kilometres (approx).
Chakrata to Rohru:
120 kilometres (approx)
Chakrata to Chanshal Valley:
Chakrata is approximately 170 kilometres from Chanshal peak top and about 120 kilometres from Rohru.
Do share your travel stories with us in the comment section and let us know about your experiences. And, if you have questions feel free to type them in the comment section, we will be glad to answer them.
F&Q's Chanshal Pass