Shimla is the most visited hill station in the state of Himachal Pradesh. Previously the summer capital of British India, it is now a popular summer destination for tourists worldwide, and one can easily visit Kalka by the Kalka Shimla Railway.
Train Timing, Duration & Fare of Kalka Shimla Railway
| | | | | | |
| --- | --- | --- | --- | --- | --- |
| TRAIN NAME (NO.) | DEPARTURE | ARRIVAL | RUNNING DAYS | DURATION | FARE |
| KLK SML EXP (52457) | 03:30 | 08:55 | M T W T F S S | 05:25 | ₹300 |
| RAIL MOTOR (72451) | 05:25 | 09:52 | M T W T F S S | 04:27 | ₹800 |
| SHIVALK DLX EXP (52451) | 05:45 | 10:25 | M T W T F S S | 04:40 | ₹595 |
| KLK SML EXP (52453) | 06:20 | 11:35 | M T W T F S S | 05:15 | ₹65 – ₹300 |
| KLK SML EXPRESS (52459) | 07:00 | 12:55 | M T W T F S S | 05:55 | ₹630 |
| HIMALYAN QUEEN (52455) | 12:10 | 17:20 | M T W T F S S | 05:10 | ₹265 – ₹475 |
Train Timing, Duration & Fare of Kalka Shimla Railway
Department: Railway Ticket Reservation Center
Station Code: KLK
Opened: 1891
Elevation: 658 metres (2,159 ft)
Address: House number 1083,Shakti nagar,opp. Modi Hotel,near Shofiya School, Kalka, Haryana 133302, Indi"a
"Don't get Confuse" Shimla is Simla and its station code is SML.

Kalka Shimla toy train bookings open only one month in advance, not like other trains which open two months in advance.
Shimla's Attraction
The smooth, gleaming slopes of snow-draped mountains are undeniably appealing. Camping, trekking, paragliding, skiing, or practicing yoga while basking in the sun's warm rays are pure bliss!
Shimla is a developed city, but the natural beauty that surrounds it is enchanting. Shimla and beautiful hills are almost synonymous with each other. It draws a large number of tourists because it has something for everyone. Jakhu Temple, Tara Devi temple, St. Mary's Church, Kali Bari, Sankat Mochan Temple, St. Michael's Cathedral, Dorje Drak Monastery, Kamna Devi Temple, Bhimakali Temple, and Christ Church are all active places of worship that provide breathtaking views as well as spiritual peace.
Nature has lavished all of her love on this city, adorning it with the magnificent seven hills on which it is built. The Glen, an ideal spot for a picnic, has been visited since time immemorial. Some of the most notable landmarks in the area include Annandale, Scandal Point, Himalayan Bird Park, Gaiety Heritage Cultural Complex, Rothney Castle, Rashtrapati Niwas, and Lakkad Bazar, and The Ridge.
However, this blog is not about Shimla's attractions or its history and culture. Instead, it describes the incredible journey that can be taken to reach this gem of a location, a ride on the famous Shimla Toy Train.
Views from the Kalka to Shimla Train Route
Shimla Toy Train is a UNESCO World Heritage Site, formally known as the Kalka-Shimla Railway. The Kalka-Shimla Railway is a 2 feet 6-inch narrow-gauge railway line that runs from Kalka to Shimla along a mountainous route. It is well-known for its picturesque views of snow-covered peaks and villages. The journey will be the most memorable of your life during the winter, as snow falls and covers the route.
The Kalka-Shimla track was built in the late nineteenth century to connect Shimla to the rest of the Indian Railways under the British Raj. The Kalka Shimla Rail route, which is over a century old, offers the old-world charm of traveling through lofty pines and lush-green terraced farms. The 96-kilometer ride on a track with turns as sharp as 48 degrees is mind-boggling.
The journey and the scenic views cast a spell on you as it passes through 102 tunnels and crosses more than 800 bridges and viaducts. The rail line appears to be two silver threads amidst two cliffs, with hills on both sides. The miniature train moves with pride and power on the bridges and across rushing streams. It's a sight and experience to remember. The cool breeze and fragrant air will undoubtedly sweep you off your feet.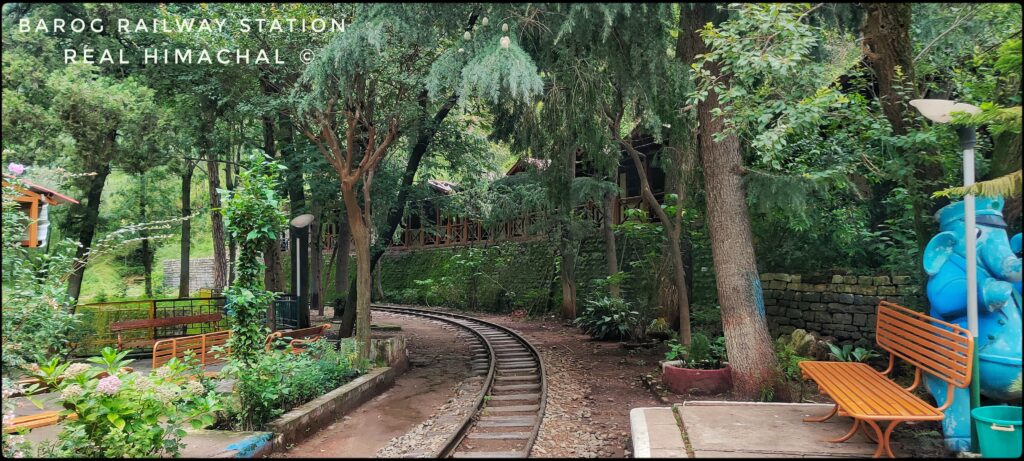 The Epic Journey of Kalka Shimla Railway
As soon as the train leaves the Kalka station, you can expect a steep ascent. The toy train whistles along the track, passing by some of the world's most beautiful scenery. Forests of deodar, oak, ficus, and maple are crossed at a speed of only 22 km per hour, giving you plenty of time to take in the scenery. The journey shows you the transition from one type of vegetation to another, the splendor of the railway stations, and the Gothic-style bridges that appear along the way. Fresh dew on trees, birds chirping, humble village folk, grazing cattle, and soft sun rays are all guaranteed to detox you.
Toy trains are available that are designed to transport passengers back in time. Sitting on the right side when traveling to Shimla and on the left side when traveling to Kalka is recommended. To experience the fun, book your tickets well in advance, as these trains are always overcrowded, especially during the summer season. Also, remember to reserve a Shimla hotel room before the tourist season begins and prices skyrocket.
How it all started
It was November 1903, and the first Kalka Shimla Toy Train chugged its way up the hills from Kalka station, negotiating the curviest single track to reach Shimla, the summer capital of the British Raj. The 'Hill Puffer' locomotive steam engine was used to power this unique mountain railway, making it easy for the British to connect the plains to high ridge destinations. After seven hours and 109 tunnels, 969 bridges, 919 curves, and crossing 20 railway stations, the Kalka Shimla Toy Train arrived at Shimla Station. The train had traveled 96 kilometers and climbed over 4,800 feet. Dharampur was the first station it passed through.
While riding on the most scenic mountain railway, I was thinking about the grueling work schedules of the workers and the engineering feats required to build the railway track in the most challenging terrain. Even after 114 years, the railway staff still uses Neal's Token Instrument System to establish communication between stations. I was astounded by the railway workers' dedication to maintaining the tracks and keeping the stations clean.
Fun Facts:
1. The Kalka to Shimla toy made its inaugural journey in November 1903, with Viceroy Lord Curzon on board.
2. The train travels 96 kilometers.
3. Shimla is more than six hours away from Kalka Station.
4. The train travels on the world's thinnest gauge track (762mm), considered an engineering marvel.
5. The route includes 109 tunnels, 969 bridges, 919 curves, and 20 railway stations.
6. The Barog tunnel is the longest on this route and is the world's straightest tunnel.
7. The Kalka Shimla railway was built which year:- On July 8, 2008a UNESCO World Heritage Site Mountain Railways of India.
Trains from Kalka to Shimla
Here are three primary tourist train services on the same route from Kalka to Shimla.
1. Shivalik Deluxe Express
This high-end express train from Kalka railway station is aimed primarily at tourists. It has a large glass window and comfortable cushioned seats. This train has a capacity of only 120 passengers. Surprisingly, this train does not stop along this route.
2. The Himalayan Queen Toy Train
This is a standard train used mainly by locals for daily transportation and the best toy train from Kalka to Shimla. It makes several stops at various stations. If you enjoy getting down to stations and exploring the area, this train is a good option on this route.
3. Rail Motor Car
This train looks precisely like a bus from the Second World War. It only stops at one station, which is Barog. It has a transparent roof and only seats 14 people. This is yet another express train.
How to Get There
1. Train: The most convenient way to get to Kalka is to take the Shatabdi Express from Delhi. The journey will take a total of four hours. Several trains run from Delhi to Kalka.
2. Air: The quickest way to get to Kalka is to take a flight from Delhi to Chandigarh and hire a private cab.
3. Car: You can also take a private cab from Delhi to Kalka to enjoy the scenic drive. The route will cover 257.7 kilometers on NH 44.