About Pulga Himachal
One of the top sites to visit in Kasol is Pulga Himachal Village, which is 3 km from Barshaini. Pulga Village is renowned for being the Himalayan side's tea gem. Pulga is known for its beautiful scenery and wooden homestays. It has a lot of dense deodar trees, waterfalls, and apple orchards.
Another thing about Pulga Himachal Village is that it's a small settlement located in the Parvati Valley, along with its sister villages, Kalga and Tulga. Each of the three settlements may be reached in less than 30 minutes. The three settlements' infrastructure is best developed in Pulga. Apple orchards surround the settlement on all sides, and five minutes walk away are lush evergreen mountain forests.
While many tourists pass through Kalga village on their way to Kheerganga, most visitors to Pulga want to stay in the village for extended periods of time to take in the tranquil mountain scenery and the hippy atmosphere.
Things To Do In Pulga Himachal
Fairy Forest:
Fairies are said to roam and reside inside trees in the Fairy Forest. In addition, it is a forest region where one can commune with nature and immerse themselves in the tranquillity of the Himalayas.
Waterfalls:
The waterfall is pretty and is located on the road to the fairy forest. However, if you're looking for a bigger adventure, there is also a giant waterfall located on the Kheerganga trail.
Psy Party:
Numerous parties, including raves, psychedelics, and hippies, are held in the forest next to Pulga throughout the month of October. Sometimes they go on for days on end.
Apple Farms:
The majority of Himachal is reliant on agriculture as its main source of income. The same is true of Pulga. The town is surrounded by large apple orchards, and it's a real treat to see them in bloom.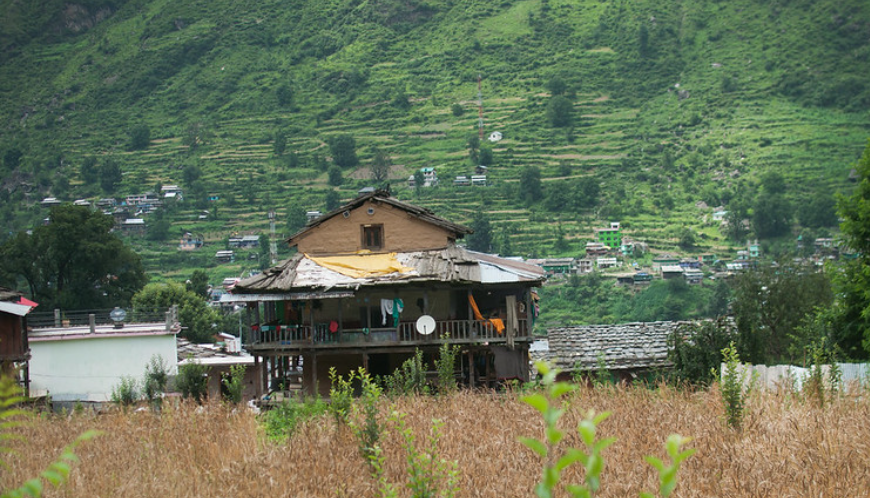 How To Reach Pulga Village From Kasol
The majority of passengers begin their journey in Delhi. So, we'll explain to you how to get to Pulga village from Delhi.
From Kashmiri Gate or Majnu ka Tila in Delhi to Manali in Himachal Pradesh, Volvo buses are the easiest way to get from there to Bhuntar.
Don't drive toward Manali. Descent to the Bhuntar location (junction point: from where one way goes to Manali and the other towards Parvati valley). You must now travel from Bhuntar to Kasol.
If you're on a tight budget, you can either take a shared taxi, which is also a very affordable and comfortable method to get to Pulga, or a bus from Bhuntar to Kasol that runs at regular intervals, one after the other. If you like, you can rent a bike as well.
After Kasol, you have to go to Manikaran, then Barsheni, which is your final stop. Now your track starts.
Travelling directly from Barshaini is one option. Another one is just before Barshaini; from here, the route descends to the dam, and from there, a bridge-spanning hike leads to Pulga. One is, of course, the hike from Kalga to Pulga, which includes numerous bridge crossings.
Best Time To Visit Pulga Village Kasol
It actually depends on what you desire. For example, from April to July, when the majority of visitors arrive, the valley will be lush green and teeming with life. After that, the monsoons make the ground treacherous, but you can still take in the rain from a Pulga guesthouse. But during the rainy season, it is not advised to go on the Kheerganga trek. From the final week of December to the beginning of February, snowfall will be visible.
Accommodation In Pulga
There aren't many places to stay in Pulga because travelers have only recently begun coming here. At one end of this remote community, there are a few mid-range motels that provide Wi-Fi access. In addition to this, there are a few inexpensive lodges that feature dung flooring, mud walls, and wood construction. They will provide you with an entirely unique experience.
A Few Highlights From Pulga, Himachal Pradesh
Interestingly, most kids in Pulga Himachal Village can hula hoop and are often happy to do it for visitors.
Groceries are transported through the rope ways. This is the most unique experience.
The dense forest of deodar trees. It's really beautiful while tracking and gives a breathtaking view around.
There are no roads to Pulga in Himachal Pradesh. From Barsheini, you need to hike around 3 km.
A Distance Chart For The Parvati Valley
Bhuntar to Kasol = 31 km (fair condition of the road).
Kasol to Manikaran = 4.5km (fair condition of the road).
Manikaran to Barsheni = 8 km (fair condition of the road).
Barsheni to Pulga = 3 km (so so condition )
Important Details
Mobile Connectivity – Yes
Bus – Till Barshaini
Max Altitude – Around 7300 ft.
Stay – Available
Best Time – March to July.
Location: 23 kms from Kasol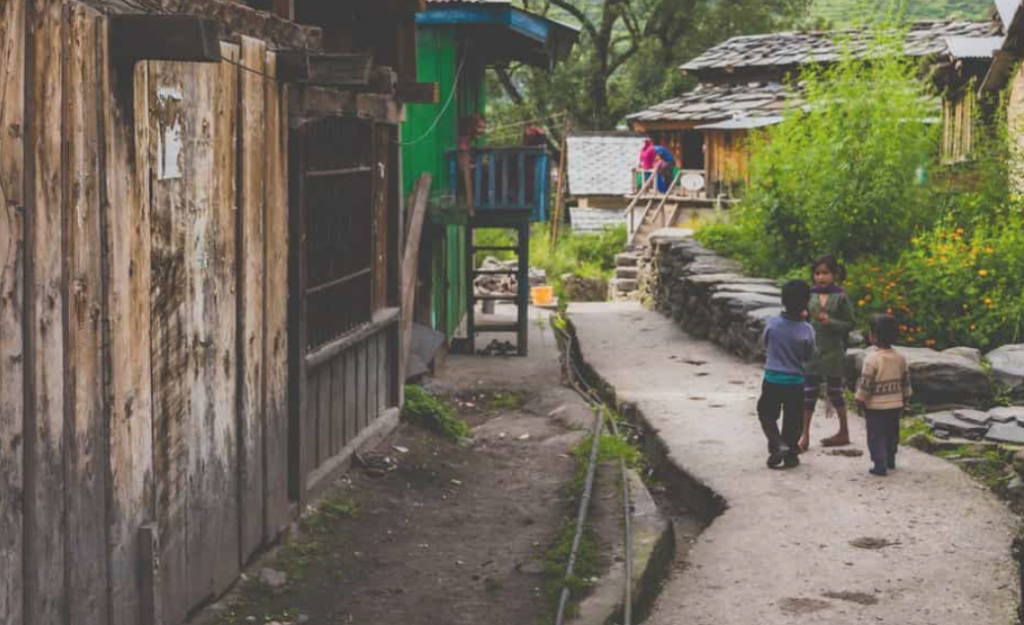 Treks Around Pulga
Kheerganga:
Also reachable from Tosh is the Kheerganga hike. If you go to Kheerganga in the morning, you can arrive there by the evening, stay the night, and return the following day.
Kutla:
The views of the snow-capped mountains in the Parvati Valley are available from Kutla, a high-altitude grassland encircled on all sides by woods. Tosh is 3 kilometres away from Kutla. Kutla may be reached from Tosh in about an hour.
Buddhaban:
On the way to Animal Pass or Sara Umga la Trek, Buddhaban is a meadow that is about one hour from Kutla. You can stop at Buddhaban on the way from Tosh to Kutla if you want to spend the night there.
Famous Places Near Pulga Village
Manikaran
Northeast of Bhuntar in the Kullu District of Himachal Pradesh, Manikaran is situated in the Parvati Valley along the Parvati River. It is 4 kilometres ahead of Kasol, about 45 kilometres from Kullu, and around 9 km from Barsheni (Pulgha) at a height of 1760 m. Manikaran is famous for its hot springs.
Malana
Malana is a historic Indian village located in the Himachal Pradesh region. This secluded settlement is located in the Malana Nala, a side valley of the Parvati Valley to the northeast of the Kullu Valley. About 32 kilometres from Barsheni, the peaks of Chanderkhani and Deo Tibba cast a shadow over the settlement (Pulga). Malana cannabis plants that thrive in the Parvati valley are used to make the "Malana Cream," a product that has made Malana renowned. Hash, considered to be of high purity, is Malana cream.
Kheerganga
In Himachal Pradesh, a transient village called Khir Ganga is constructed during the summer. It can only be reached on foot (2-to 4-hour hike). On this lovely day trip, a small trail along a cliffside leads to numerous waterfalls and a few remote settlements. It is 12 km from Barsheni Village."Charas," a type of marijuana that is often grown in Kheerganga, is known for being there.
Kasol
Kasol is a hamlet in the Himachal Pradesh state of India's Kullu district. It is located on the route between Bhuntar and Manikaran in the Parvati Valley on the banks of the Parvati River. It is 3.5 kilometres from Manikaran and 30 km from Kullu town, the district's administrative centre. The valley, which begins at the meeting point of the rivers Parvati and Beas, is renowned for its picture-perfect coniferous woods and crystal-clear mountain streams. The beautiful village of Kasol is tucked away among these forested hills.
Tosh
In the Indian state of Himachal Pradesh is the village of Tosh. It is situated in the Parvati Valley, at an elevation of around 2,400 metres, on a mountain slope along the right bank of the Parvati River. Tosh, which is perfectly suited for both solo and group adventures and is widely known for its hippy culture, attracts travellers from all over the world. It's around 10 Kms from Barsheni.
FAQs Pulga Himachal