Introduction: Shimla Water Catchment Sanctuary, Shimla
Shimla water catchment Wildlife Sanctuary is a huge preserve site for wildlife and natural species. It is located next to NH 22 and immediately north of Kufri which lies approx 12 km by road east of Shimla city of Himachal Pradesh. The Wildlife Sanctuary has situated 8 km to the east of the Sanjauli- Dhalli- tunnel. This site of Shimla is a big tourist spot for nature watchers. Every year so many tourists come here to enjoy the wildlife in its natural habitat. In this wildlife sanctuary, visitors can also enjoy many adventurous activities like camping, trailing, trekking, mountain climbing, hiking, river rafting, etc. Let's get to know more about the Shimla water catchment Wildlife Sanctuary.
Address: NH 22 Charabra Mashobra, Himachal Pradesh 171012, Shimla, India
Timings: 10:00 am – 04:00 pm (Monday Closed)
Phone: +91-1772623993
Ticket Price: INR 150 Adult, INR 50 Student(With Valid ID), INR 300 Bicycle
Tags: Outdoors, Forest, Water Body, Waterfront, Wildlife Sanctuary, Family And Kids, Nature
Time Required: 03:00 – 0400 Hrs for complete sightseeing
About Shimla Water Catchment Sanctuary
Shimla water catchment wildlife sanctuary has a long history of conservation. It is one of the densest forests in Asia. This place has been conserved for more than the past 135 years. This wildlife sanctuary is capable of fulfilling two purposes which are wildlife conservation and water storage. 
Apart from the wildlife, the water catchment area offers an ideal day hike into the woods for adventure seekers. At the entrance of the gate, tickets need to be taken to visit the century as there is a limit on visitors. The trail starts from the entrance gate of the water catchment sanctuary which is a 7 KM walk to a beautiful rest house at Seog.
For Visitors
The trek is fairly easy and relaxing as you will walk a rough narrow road without ups and downs. A visitor could choose to explore the Sanctuary on foot or hire a bicycle at the entrance for a nominal charge. If you are travelling by bicycle or car, you must seek permits from the reception area. Besides, it is advisable to take a trained guard- cum-guide while hiking trailing because there are chances of getting attacked by a bear or leopard.
The century offers opportunities for wildlife tourism with breathtaking vistas to nature lovers with a lot of potential for animals and bird sightings. This place is kept away from the smoke and noise of vehicles. So the pleasure of passing through this dense forest can be obtained without disturbing the wildlife and environmental system. Cycling here is also one of the best experiences of Shimla.
The wildlife sanctuary is surrounded by deodar trees. It is known as the paradise for bird watchers. If you take a good camera and binoculars with you, then you will be able to see and enjoy this place more closely. There are also huts which are made of bamboo and you will get to see a lot of breezes as well. Many species of animals like deer and leopard can be seen here. 
This place is undiscovered. If you come from the city and want to get away from the noise of traffic, then this place is an ideal place for you.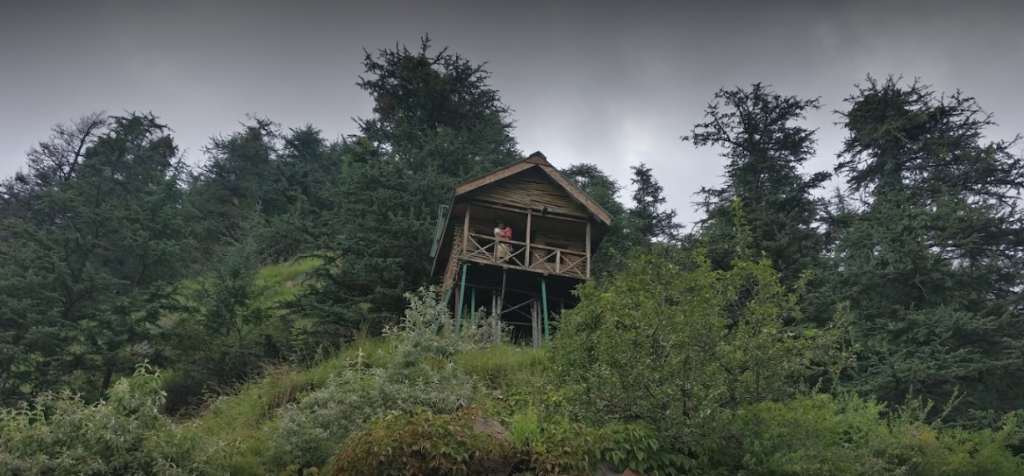 About Flora And Fauna
The Shimla Water Catchment Sanctuary is surrounded by dense deodar trees. This wildlife sanctuary is blessed with limitless species gifted by mother nature.
A magnificent variety of fauna includes Leopards, Deers, Pheasants, Gorals, Pine Martin, Musk Deer, Himalayan Black Bear, etc. And a magnificent variety of flora includes Shrubs, Creepers, Ban Oak, White Oak, Mohru oak, Kharsu oak, Himalayan spruce, Himalayan pine etc.
Activities You Can Do
Cycling
Forest Walk
Photography
Rest House Facility
Car Drive (Special Case)
Camping
Trailing
Trekking 
Mountain climbing
Hiking
River rafting
Sightseeing of wild varieties trees, bird & butterflies.
How To Reach
Via Air
There are regular flights from Delhi to Shimla and Chandigarh to Shimla Airport situated at Jubbarhati at a distance of 23 km from the city which has limited functioning depending upon the weather conditions.
Via Train
The Kalka -Shimla train line with more than 100 tunnels offers breathtaking and scenic views of the landscape. The nearest railway station is the Kalka railway station which is situated at a distance of around 96 km.
Via Road
Shimla has good road connectivity and anyone can easily use roadways as Shimla is connected through roads from every state. Direct buses are running from Delhi to Shimla. Both public and private transport buses regularly run. If you like to drive and you want to do some adventure on your trip, then you can also come to Shimla Water Catchment Wildlife Sanctuary in your private car.
Best Time To Visit
October -November-The best time to visit and enjoy the Shimla Water Catchment Sanctuary is during the winter months when the temperature remains endurable and there is no snow.
April-Mid-June-Summer months are also a preferable time to visit this wildlife sanctuary. The weather remains pleasant and the cold breeze, clear sky, and elevated mountain ranges make the journey to this sanctuary very amazing.
Travel Tip
Carry your own food and water.
In case of rain, there are limited shades to shelter.
Be aware of wildlife animals.
Beautiful view one should not miss taking pictures.
If you are with family, you can book a resthouse for 2-3 Hours & can enjoy your food.
Places to Visit Near
Kufri
Kufri is 8 km away from the Water Catchment Wildlife Sanctuary. It is known for its beautiful market and zoo. And if you want to get away from the rush of Shimla then Kufri is the perfect place for you. Because you will get to see more of these resorts and hotels. Here, you can sit for work or give peace to your mind.
Dhingu Mandir Dhalli
Dhingu Mandir is a Hindu temple in Shimla situated at a distance of 2.2 km from the Water Catchment Wildlife Sanctuary.
Kufri Fun World-Kufri Fun World is situated at a distance of 9 km from the Water Catchment Wildlife Sanctuary. It is one of the highest and best amusement parks in the world. It has the highest go-kart track in the world.
Mashobra Jungle
Mashobra is situated at a distance of approx 5 km from the Water Catchment Wildlife Sanctuary. It takes pride in being amongst the popular offbeat places to visit near the Himalayas.
Helipad Charabra
Helipad Charabra is situated at a distance of approx 3 km from the Water Catchment Wildlife Sanctuary. One of the best places at the top of the mountain and the view from here is very scenic and beautiful.
If you are looking for an exciting and adventurous place in Shimla or you want to do cycling on the trek with family or friends. If you are someone who wants to spend quality time among the beauty and peace of nature. This place is best for you. And, if you have any questions you can ask us in the comment section, we will be glad to answer them. 
F&Q's Shimla Water Catchment Wildlife Sanctuary
Churdhar Wildlife Sanctuary, established in 1985, is one of the famous wildlife sanctuaries in Himachal Pradesh.
There are as many as 26 Wildlife.
The best time to visit is from October to November.